Soft Fruit Manager-Grower /Great Northern Hydroponics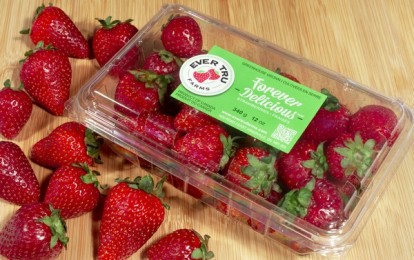 Job description
In this position in a successful and fast-growing, vertically integrated company, you are committed to the year-round indoor production of premium quality strawberries with superior flavour.
The main areas of your responsibility are ;

• Supervising and directing greenhouse production

• Planning, organising and controlling the cultivation and production of strawberries

• Provide leadership and support to all members of the Production Department

• Assessing and prioritising all cultivation-related tasks, completing and issuing work schedules,
• checking completion.

• Maintain data on climate, cultivation, production and quality

• Analyse crop data to apply successful cultivation strategies

• Responsible for all cultivation materials

• Maintain daily communication with other necessary departments

• Provide daily and weekly production estimates, quality updates, planting conditions, etc.

Report to and collaborate with Vice President Operations.


Company profile
Great Northern Hydroponics (greatnorthern.farm) is a vertically integrated supplier providing top quality strawberries with superior colour and flavour all year round.
As pioneers in the hydroponics industry in Ontario, Canada, Great Northern Hydroponics believes they have refined a process that allows them to provide consumers with more consistent and higher quality berries. By reconstructing and adapting the sustainable hydroponic growing process, the company has developed a strawberry growth strategy that leads to a better, more consistent product. Great Northern Hydroponics believes customers should be entitled to Forever Delicious™ berries from a brand they can trust.
The products are sold under the name Ever Tru Farms.The strawberries are grown using an impressive hydroponics system in a controlled environment, using maximum biological control, and are non-GMO. Additional LED lighting in the greenhouse allows year-round production.
The company has the entire operation under one team, allowing full control of the growing process from propagation to distribution.
Requirements
The key skills required are:

• Horticultural degree or equivalent through experience

• Leadership skills, ability to be objective

• Organisational and problem-solving skills

• Ability to work both independently and as part of a team

• Ability and willingness to relocate to Canada
Offer
A very good salary and benefits are offered for this position with a wide range of responsibilities and the opportunity to contribute your own ideas and experience in horticultural production. The company will provide all necessary documents and visas that will be required. The opportunity to progress within the Great Northern Hydroponics company is a realistic option.

How to apply
Great Northern Hydroponics has outsourced the recruitment and selection for this position exclusively to BEACH Recruitment B.V., specialist in the food sector. For more information you can contact Beach 023-2050288 or directly with the responsible consultant Marc du Prie (+)31 6 53 449 758 You can apply via www.beachrecruitment.com.
Publicatiedatum
07.09.2022
Contactpersoon
Job Search Agent
Maak een Job Search Agent en ontvang nieuwe vacatures per e-mail.